Before his show at Joe's Pub in NYC we talked with David Fanning about his new EP, producing for other artists, and finally having the freedom to create music he's passionate about.
David Fanning is carving his own path with a unique style of country music. "We're callin' it ECM: Electronic Country Music," he said with a laugh as we sat down backstage at Joe's Pub before his New York City EP release party.
In a genre that ranges from Chris Stapleton to Sam Hunt, from Miranda Lambert to Kelsea Ballerini, there's no question that country music audiences have broad tastes and preferences. But at its core, country music is about the lyrics, and lyrically Fanning's new music has depth. "I might have more depth in my stuff now than I ever have," he said. "It's just wrapped around with a different package."
That package, which is infused with pop and EDM elements, is fully on display during Fanning's live show. Rather than bringing a traditional full band on stage with him like he used to do, Fanning now relies on one other man – DJ3K. And everything the audience sees and hears – the music, the videos, the lights, the set – Fanning has designed and built with his own hands. "We literally just finished building this rig on Thursday night at about 1am in Nashville," he told us. "It's what I love to do."
Fanning found early success as a producer, racking up three number one hits including Thompson Square's Are You Gonna Kiss Me or Not and Parmalee's Carolina. But being an artist was always the goal. "I knew I wanted to do music basically when I could talk," he said as he laughed. "My family was in a 50s and 60s accapella group and so that's what I grew up around. I never really had a Plan B."
'I wasn't made to sit up on the bleachers, so I get up and I lace up my sneakers.'
Planning for this latest EP, Fanning had a number of songs selected; not enough for a full album, but too many for an EP. "We started looking at all the themes of the songs and realized it's kinda like my whole relationship over the past few years," he explained. Instead of culling songs, they decided to create four EPs which they will be releasing every three months. Dreamers, which was released on September 1st, will be followed by Lovers, then Liars, and finally Strangers. "It's my relationship love cycle," he said with a big laugh.
The EP starts off with the the title track, Dreamer, which could be applied to relationships, but also more broadly towards achieving one's goals. Fanning was inspired to write this track after leaving his prior record label where he "kinda felt bogged down," he said. "They didn't really let me be who I wanted to be. Now I feel free to make music that I enjoy."
'I'm a dreamer, the stars are my stage the world is my arena'
The second track on the EP is Fanning's latest single, Ridin' to the Beat, which was just added to Spotify's Wild Country playlist. This track is "more about a young, fresh relationship," he explained. "So you go from dreamin' to sort of havin' a relationship, then Lighthouse is kind of fallin' for the girl, and then Unbreakable is gettin' to that point where you're feelin' pretty good about it." All of that will lead to Fanning's next EP due out in December, Lovers.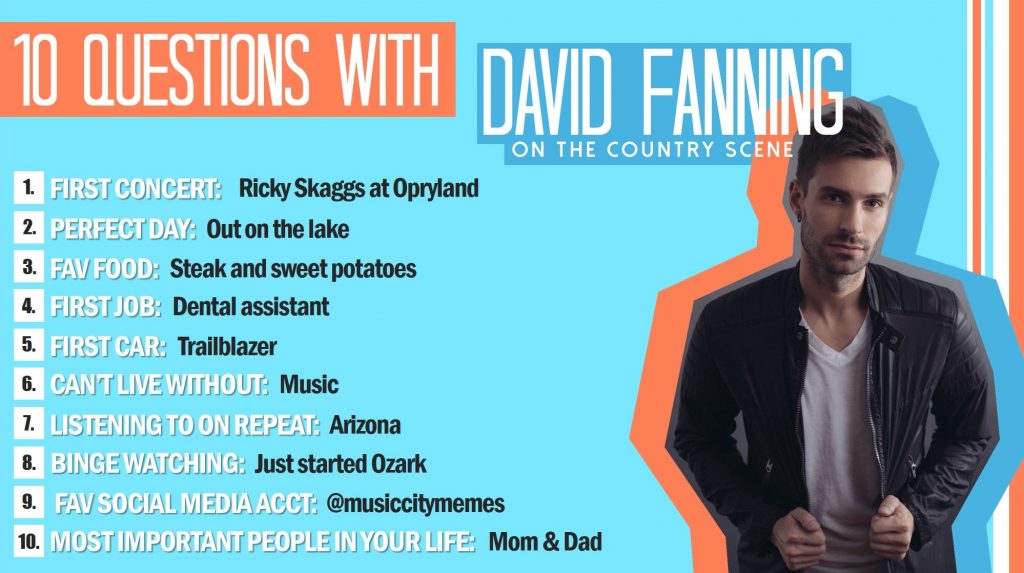 Earlier this year Fanning embarked on a tour of thirty middle and high schools across the South. Dubbed #musicFIRST, Fanning used the opportunity to meet with teachers and school administrators to discuss the importance of music education programs. He also gave students at each of the schools a special live performance. "I've always been passionate about music education in schools," he said. Having grown up in a small rural town, Fanning has seen firsthand the impact music can have on people's lives. "I want to at least do ten or fifteen more schools this year and just keep on inspiring them," he said. "You don't have to stay in your town, you can get out and do something big."
Fanning insists he has no plans to leave the genre he's always called home. "Country music has been really good to me. I grew up in the smallest town, Ardmore, Tennessee – I'm always gonna be a country boy," he said with a laugh. "For me, it's having cool music and then having some lyrical depth and hopefully people connect to it."
Check out our exclusive photos from Fanning's NYC show below:
David Fanning

For all of the latest news and updates on David Fanning head over to davidfanningmusic.com and follow his social media accounts: Facebook | Twitter | Instagram | Youtube
Listen to Dreamers on Spotify here:
Were you at David's NYC album release show or have you seen him perform live elsewhere? Let us know what you thought of his performance in the comments section below!